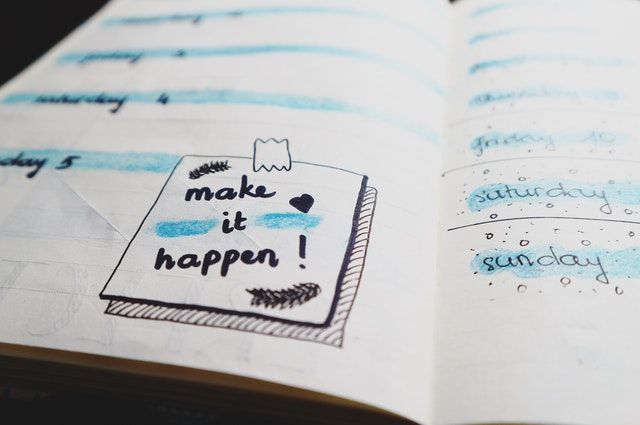 People often ask me: How can I make sure I achieve my goals?
Here is my best tip: you need to figure out what your planning style is.
By planning style, I mean your natural way of feeling energized and getting organized. If you have never given that concept a thought, keep reading, it is a game-changer. The way you frame and phrase your action plan matters. A lot.
An aligned goal is not enough to keep momentum, you need an efficient system to move forward. Getting clarity on what motivates you to take action is the key to success. Having no clue = self-sabotage.
Note that you may prefer one type of planning for your personal life and another type career-wise. Your style may also vary from one project to another.
Objective oriented planning
If you enjoy having a specific target with a deadline, then it's best to plan by setting specific measurable goals like this:
I have to complete a 10 pages assignment for the 12th of this month…
I will drop 6 pounds before my cousin's wedding day…
I want to make an extra 500€ this month.
Planning by domains and directions
If your motivation comes from a desired emotional state or a more general life direction, then you'd rather phrase your goals like that:
Writing this assignment will allow me to learn about…
I would like to feel lighter to enjoy my cousin's wedding…
Making more money will finally allow me to do X…
Task planning
The best planning style for the to-do list lovers. For people who like to review their goals daily but do not trust themselves to just go with the flow. Write down all the tiny steps you need to take to reach your big goal, then tackle one task after another.
I will write 2 pages daily over the next 5 days, by sitting down at my desk from 8 to 10 AM…
I will exercise 15 min a day at 11 AM, and I will drink 1 glass of water every hour on the hour…
I need to find 1 idea to make an extra 500€ this week, I am going to meditate at lunchtime, and will write all the good ideas that pop up right after…
What If I don't like planning?
Some people favor mindfulness over planning to make conscious choices. This can be very efficient for certain creative projects if this is a real choice. Not so much, if it's a non-decision to plan. It requires a strong capacity to analyze your flow of energy and pay attention to your intuitions.
---
If you are not sure what your favorite planning style is, think about the last time you easily achieved and nailed a goal. How did you do it? And conversely, what part of time management was responsible for the last dropped-out project?
It all comes down to zooming in and out between your Big Picture and your personality. Make it as easy on you as possible, your goals, your style… whatever works!